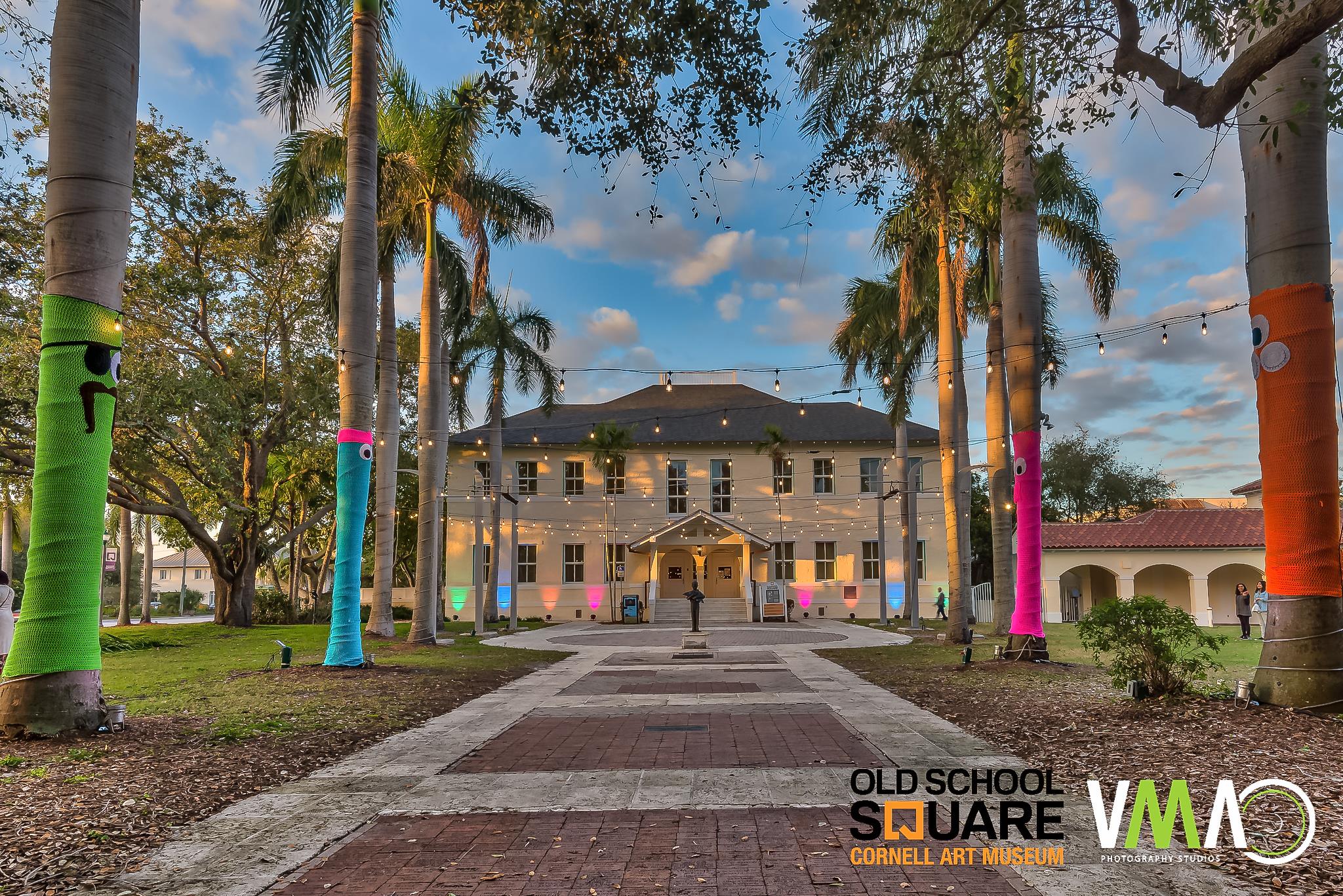 August 7, 2017 1:00 pm
Cornell Art Museum Will Launch the 2017-18 Season with a Newly Renovated Interior!
Delray Beach, FL – September 27, 2017 UPDATE – Exciting interior renovations are underway at the The Cornell Art Museum, which is closed until early November. The new design will better showcase the innovative, contemporary art that defines each exhibit, while honoring the historic character of this 1913 building.
ABOUT THE RENOVATION
Rob Steele, President and CEO of Old School Square, explains, "The Cornell Art Museum is undergoing dramatic interior renovations and will, in all-likelihood, erupt into the SoFlo art scene as a 'not to miss' destination asset. Great care has been taken with this renovation project to assure that the timeless charm of this historic schoolhouse melds with the function of a unique art museum. We are confident the result will speak volumes without words."
The renovation has been made possible through the generous support of Mrs. Margaret Blume, who said, "I want to enhance the use of this historic school house for the display and enjoyment of art. With the Cornell Museum, less is more. It's a little gem that is perfect for a short, but lovely, cultural experience in the heart of Delray Beach."
The renovation will accomplish the following:
The front and rear entrances will be modified to create a more welcoming appearance and to allow more space for exhibit load-in and load-out.
Exhibit space will be maximized with movable walls to allow for more configurations within each gallery and to elevate the look of each exhibit.
Gallery lighting will be upgraded to meet current museum industry standards.
Sleek, new window coverings will be added in each gallery.
The two grand staircases and Dade County Pine floors will remain in place.
The Museum Store will be redesigned with new cabinetry and fixtures to better display the one-of-a-kind, original works created by local, regional and national artists.
MUSEUM HOURS AND ADMISSION WILL CHANGE
New hours will be Tuesday-Saturday, 10 a.m.-5 p.m. and Sundays, 1-5 p.m. Closed Monday and major holidays. Admission will be $8 (general); $5 (seniors 65+ and students with ID); and free for Old School Square members, children under 12 and Veterans. Delray Beach residents will receive free admission on Sundays.
THE CORNELL ART MUSEUM'S MISSION
The Cornell Art Museum strives to show nationally and internationally recognized, contemporary artists who create innovative and provocative works of art. Inquisitive visitors enjoy intriguing pieces of artwork while discovering new artists and styles. The Museum exposes the greater Delray Beach and South Florida communities to artwork that is culturally relevant and exciting, hoping to foster creativity and inspire imagination. Museum shows typically begin with a theme and blossom into dynamic group exhibitions that excite visitors from all backgrounds.
The Cornell Art Museum "is as young and hip as a Wynwood [Miami] gallery…" — Delray Beach Magazine
THE CORNELL ART MUSEUM COLLECTION
While the Cornell Art Museum exhibitions typically focus on contemporary art, the Cornell Art Museum Permanent Collection has its own unique voice. It speaks to the Museum's associations with artists and generous patrons from around the world over its 26-year history. Comprised of over 200 objects, the collection includes paintings, sculptures, decorative arts, historic artifacts and works on paper that date to the 18th century. Developed through donations from patrons and artist contributions, the collection holds the complete Bernet Collection of primitive folk paintings and artifacts among its prized acquisitions.
The renovation of the Museum's interior creates additional gallery space for exhibitions as well the rotation of the collection for the enjoyment and education of the public.
2017-18 MUSEUM EVENTS
Grand Re-Opening — Wednesday, November 8th, 7-9 pm; admission $10 (free for Old School Square members)
First Friday Art Walk – First Friday every month, year-round, 6-9 pm; details at OldSchoolSquare.org.
Art Talks – An evening Art Talk is scheduled with each exhibit; details at OldSchoolSquare.org.
Beyond Art Basel – December 11, 2017, 7 pm. We're bringing Art Basel from Miami to Delray Beach! Enjoy a presentation by contemporary artist, Jeremy Penn (who is currently participating in Looking Glass), along with music and a live painting performance.
Art on the Square – February 10 & 11, 2018, 10 am-5 pm. Second annual outdoor, juried fine art show.
6×6 Art Sale – July 2018, 6-8 pm. Now in its third year, this popular event showcases over 300 6×6 works in all media, donated by artists from South Florida and beyond. 6×6 opens as an exhibit with the July First Friday Artwalk and remains on display until the Art Sale event on July 26th.
2017-18 EXHIBITIONS
November 9, 2017-February 25, 2018 – LOOKING GLASS
This group exhibition features artwork that incorporates reflection in the work, be it the reflection of the viewer or the space around the art piece. This exhibition was chosen as the first show in our new space to showcase the museum like never before and reflect back to the community the museum's mission. The exhibition welcomes viewers to experience a sense of belonging and see themselves in the museum. Art Selfies are encouraged!
March 30, 2018 – September 9, 2018 – FLORA
This group exhibition features contemporary artwork inspired by nature – flowers and plant life, from the blossom to the decay. The displays will include installations, artwork created from real flowers, depictions of flowers, and everything in between.
ART WALK GALLERY
The Cornell Art Museum's Art Walk Gallery is dedicated to featuring works by established and emerging artists from South Florida. The monthly exhibits open with First Friday Art Walk, a downtown Delray Beach gallery stroll event, where the participating artists are on hand to greet the public at a reception. The gallery features both solo exhibitions and group exhibitions in partnership with area art organizations, art-based schools and local universities.
The Cornell Art Museum, housed in the historic, 1913 Delray Elementary building, is located on the campus of Old School Square and was dedicated in 1990.
Follow the Museum on social media. Facebook: @OldSchoolSquareCornellArtMuseum; Instagram: @CornellArtMuseum; Twitter: @CornellMuseum